Due to literally several enquiries we decided to create the rear silkscreen print of our Phonic Taxidermist 47.2b PCB re-imagined in a living t-shirt form! Be the envy of friends, work colleagues and confused strangers alike!
This shirt is being sold by Mercht for a limited time. If you've bought a t-shirt from us before via Mercht then you know the drill. We promote a shirt campaign for 2 weeks and at the end, as long as we have sold more than 10 shirts they print them and ship them out. At the time of writing this we currently have 18 sold, so this is definitely going to print. They don't actually take your money until the campaign ends.
Doing it this way means we don't have to buy advance stock and can offer a lot more sizes, shirt types and colours.
Just imagine the fun you're going to have failing to explain the design to people. "It was on the back of a PCB" you'll say, and they'll nod and smile at you as if you'd just escaped from a home for the permanently baffled
This shirt will be available until 23rd May.
Shirts are expected to ship around the 29th May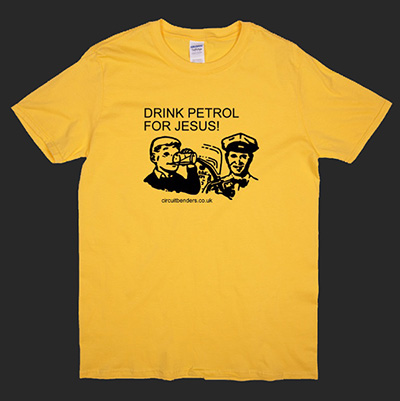 Source: News feed
Drink Petrol For Jesus T-Shirts!
Drink Petrol For Jesus T-Shirts!